Antivirus sales of Windows OS and others.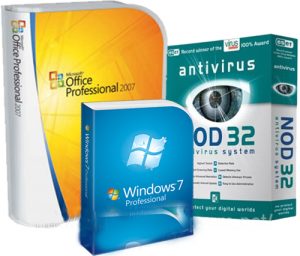 We sell anti-virus products ESET, Kaspersky, Microsoft operating systems, including server, office packages, graphic editors, specialized software, drivers for data acquisition terminals. How often do you reinstall software on your computer? Once a year, month, week? In most cases, an operating system crash occurs due to the use of non-licensed software, also called pirate ones. Piracy programs can not protect your computer from viruses, sometimes they themselves can be sources of virus spread. Therefore, if you want your computer to work stably, you should use licensed operating systems (OS) and antivirus protection software.
What benefits are licenced anti-virus programs and operating systems.
First of all, it should be noted that all serious companies use only licensed software. It allows them to protect their electronic information as much as possible. Among the benefits of such programs can be highlighted:
Legality of use. The use of pirated software is a violation of the copyright law and falls under the article of the criminal code. So, to avoid criminal liability, only licensed antivirus and OS should be used;
Support. Owners of a licensed operating system can always count on technical support. Just refer to the official website of the manufacturer;
Timely update. Licensed antivirus and operating system are constantly receiving a free upgrade when connected to the Internet. This allows you to improve the security and computer system;
Standard antivirus included. This is an advantage of modern operating systems in which there is a fairly good antivirus right away;
Stability in work. According to statistics, license programs rarely fail, so they can safely be called more reliable than their pirate counterparts.
The list of software that can be purchased at the Rivne Chamber of Commerce and Industry:
Microsoft Operating Systems
Antivirus products ESET, Kaspersky
Office packages, graphic editors
Software for data collection terminals
WEB-development
Contact phone: (067) 363-48-44